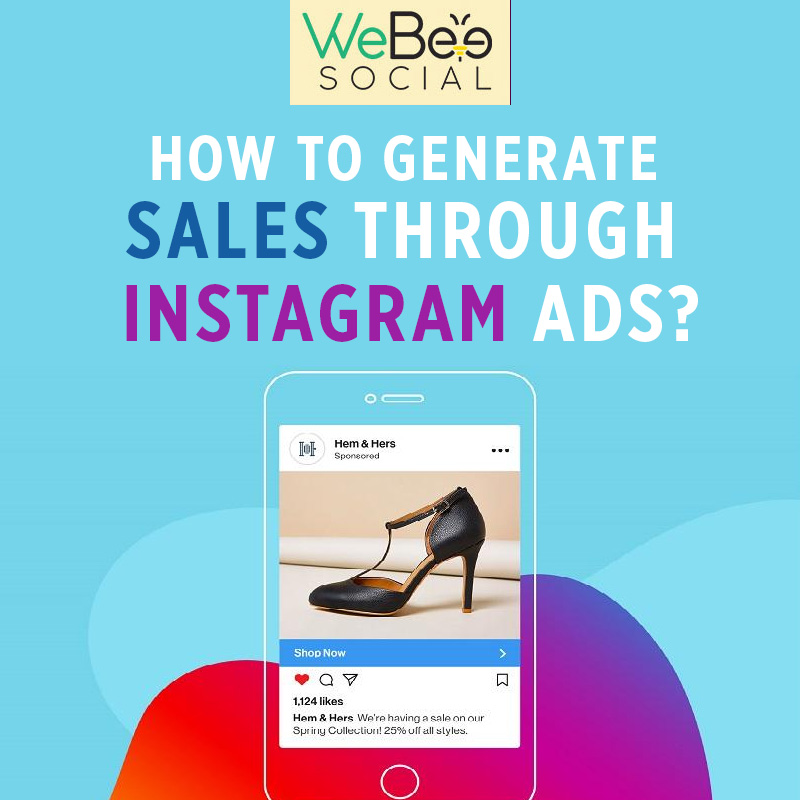 How to generate sales through Instagram ads?
Wait..what? How to generate sales through ads? Aren't ad supposed to get you sales once you run them? The answer is not that simple! When you plan and run sales-driven campaigns on Instagram, you need to be careful about a few things before you run the actual campaign.
Instagram's business community today has grown to more than two million advertisers. Instagram ads are a great success as more than 75 percent of its users visit the seller's website after seeing sales driven ads in their feed. Below are some tips to help you optimize your Instagram ads for sales:
1. Create an attractive profile:
Today people prefer Instagram over Google to search for various brands. This gives you all the more reason to curate your profile with time and use innovative ideas to prepare a beautifully-designed Instagram profile.
a) Choose a profile photo (related to your business) this will make your account more prominent and help the users to identify your account easily.
b) Your bio should give a clear description to your audience about your business and don't forget to mention what you have to offer.
c) After you're done writing your bio, make sure to add the link to your website. This will attract more visitors and make purchasing easier.
d) populate with engaging content. Make sure the content which you put is not only visually attractive but also motivated users to tag their friends or comment. Engagement is very important and don't forget using hashtags.
2. Finalizing the Instagram ads approach:
Once you're done setting up your business you can decide as to how much you want to spend on Instagram ads. This step also includes choosing the where you want your ad to be seen. Now you must be wondering how to
set up the ads? This step is easier than you think. Just promote the posts that you've shared on your Instagram profile by hitting the "promote" button (available just below your post in a blue box). Parallely you can run conversion ads through the Facebook ads manager.  Now make sure you do these 2 things properly before running conversion driven ads:
a) Send consistent traffic to the website through Instagram – Create a warm audience by just sending them to your website through Instagram.
b)Promote Instagram posts to the relevant audience – Get engagement on current handle posts.
3. Setting up conversion ads:
After you're done with setting up your audience and planned your budget hit "confirm" and you're now good to go. But one thing is needed to be kept in mind that you might not get your desired results immediately until then just keep boosting your posts. Also, use call-to-action buttons like "Shop Now" encouraging your audience to take actions immediately. For direct sales driven ads, carousal ads work great on Instagram. The platform thrives on good creatives after all! Make sure the images mention the price and product name correctly.
4. Leveraging Instagram Stories:
While Instagram stories are exploding in popularity, it is the correct opportunity to promote your business as it helps in engaging with our target audience easily. Try capturing stories showcasing how to use your product, and promoting special offers on occasions and festivities. Lastly, you need to keep in mind that your profile should be kept simple and the ideas about your business should be clear enough to people.
You can try keeping it conversational by constantly interacting with your followers and asking them about their preferences. This will help you gather more information about the user's interest, thus keeping your clients from getting distracted. This strategy will definitely help you increase your sales.

5. Remarketing:
Once you send traffic to your website and engage users on your handle, you can build a custom audience using the ads manager and remarket your ads to the website. For example, you run a consistent traffic ad campaign to see how many people go to your website. Those people who visit the product pages and drop out can be re-marketed parallelly to buy the product once the job is done.
WeBeeSocial is a full service creative digital marketing agency in New Delhi India. Our In-house Social Media team can help you identify the correct social audience, optimize your social media channels and design the best ads & social media campaigns. Feel free to connect with us to inquire more about our services here.